Frazer Watson asked me to post the following review which has already been on the ATFOTF forum. I hope it will be of interest.
- Stuart
It might sound a bit unusual to forum members that someone who is 50 this month has never been to the circus, but it's true.
When I was a kid back in the 60s/70s my family couldn't afford much and the main local entertainment was the ORIGINAL Pat Collins fun fair, which was based in Bloxwich where I still live, so trips to the circus weren't something that we ever got around to, and later when I went to college my interests were diverted elsewhere.
Anyway, having recently been involved with the Pat Collins 150th birthday celebrations, my interest in such things has been revived somewhat and I decided that if the opportunity came to visit a traditional circus with animals, I would take it. This week Peter Jolly's Circus hit town, and landed in Rushall, Walsall, just a couple of miles away from my home. One lunchtime week before last, I was in Walsall and I spotted a chap putting up posters for Jolly's. He gave me a few discount slips and an idea was born. Fate? Who knows. Fun? You bet!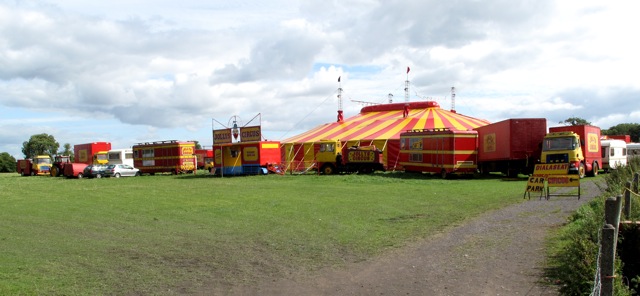 Peter Jolly's Circus at Rushall
So I booked myself a ring-side seat for this Saturday afternoon (29 August 2009) for the 2pm performance, and rolled up about an hour before the show was due to start. I asked about taking photos before, and they don't allow that during the performance (pity, I would have got some good shots!), but it was ok for me to take a few shots of their setup outside, so I did.
Foden and ? wagon
Foden close-up.
Soviet Russian tractor (!) and Foden.
Ford
ERF? and Foden
I understand that Peter Jolly's is a popular family circus, and I wasn't sure what I would get out of it visiting on my own, but I needn't have worried. For a small company they pack a hell of a lot of fun and excitement into a two hour show! Having taken a few snaps of the colourful transport, I waited awhile and not long after Peter Jolly Jnr came over to me and we had a chat before he had to dash off and open up the Box Office. While we had been speaking cars had begun to pull up on the field behind me and soon a queue formed and I joined them, collecting my ticket and entering the Big Top.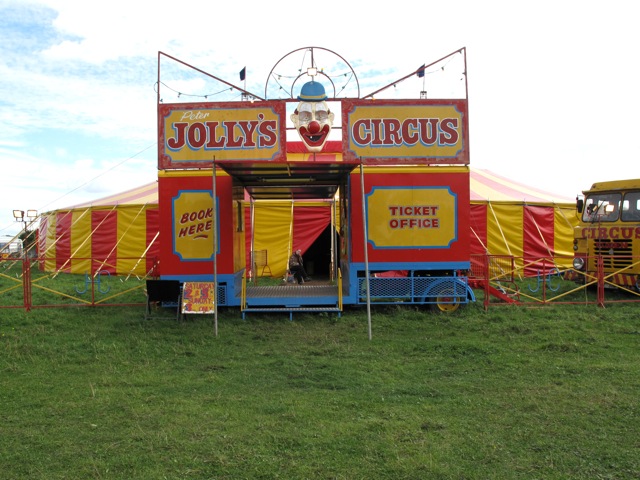 The Ticket Office
Unlike the Tardis, the tent was smaller on the inside, and having never been inside a big top before, having only seen them in films or on TV, I thought it looked a little small, but of course this was not Ringling Bros or Barnum & Bailey! There were four lattice framed 'king poles' plus a lot of other smaller metal poles, painted blue, holding up the canopy. The main lighting was supported by the king poles, and there was tiered seating on three sides, with the performer's entrance on the fourth side.
Closely surrounding the ring itself, which was centered between the king poles, were folding seats, and I picked a good spot on one of these. Not long later a family group entered and was led to sit next to me. Some of the smaller children from the audience were having fun being towed around the ring by a pony pulling the 'Circus Express train'. I felt the excitement begin to build with lively background music mixing with children's laughter and the chatter of parents and grandparents all around. Being a Saturday afternoon the audience wasn't as big as for an evening performance, but I'd say by the time the show was due to start there were around 100-150 people ready and waiting for some fun.
The Ticket Office and Big Top
Then the traditional circus music began, signalling the start of the show...
...but I'd be here all night if I was to set down all the details I enjoyed about the show. I made a few brief notes but I didn't spend too much time on this because there was a lot to see and enjoy in the ring, right in front of me! Let's see what I can remember in brief.
The show and the individual acts were introduced by Peter Jolly Jnr, as Ringmaster. Like many of the family and their colleagues, he had a number of other roles to perform as well - they are a versatile bunch at Jolly's Circus! He got the show off to a good start with a jokey water-throwing routine staged by Buttons the clown.
The first segment of the show was, if I recall correctly, called their 'Western Pastime', and this had a Wild West theme. Two attractive young ladies, Julie Ann and Sarah Jane, appeared on two large, healthy-looking and apparently well looked-after horses. The girls were wearing poncho's and sombrerero hats, and circled the ring several times. A young man dressed as a cowboy entered with them. They were followed after leaving by a number of small ponies who were led round in good order and then stood front feet on podiums.
The 'cowboy' (sorry I didn't get his name, he had a lot else to do later!) was in charge of directing the horses, and then after they left the ring he and the young ladies performed a very skilful lassoo-spinning routine. He then treated the audience to a wild and woolly whip-cracking display worthy of Indiana Jones, aided by Buttons, and by Julie Ann and Sarah Jane who were now dressed as Red Indians. The girls then staged a traditional knife-throwing act.
Samson the miniature pony, trained and presented by Peter Jolly Snr. demonstrated his ability to find coloured rags in boxes, apparently identifying the colours on command. He also circled the ring, stopping and starting when children in the audience were asked to call out according to the colour of some 'traffic lights'.
This was followed by a fine demonstration of low wire walking by Julie Ann, using a parasol and various hoops, completed by her walking a bicycle wheel rim along the length of the wire with her feet INSIDE the rim!
Then there was Tom and Jerry, a 'little and large' horse act, presented by Peter Jolly Snr. Tom was a much larger horse than Jerry, a very small pony - they were both the same colour, brown and white, which added to the visual effect.
They were followed by Peter Jolly Snr. with 'Tonto', a grey pony maneouvering around tricky obstacles.
Julie Ann and Sarah Jane then appeared as 'The Starlight Sisters' juggling and spinning hula hoops, shiny rings and walking around the ring atop large silver balls.
The 'cowboy' then returned as a very tall stilt-walker with puppets who, after a bit of banter with the Ringmaster, set a side his puppetry for some exciting work spinning and tossing a large diabolo while stilt-walking.
The next segment was titled 'Canine Capers' where Julie Ann appeared with some small trained dogs who were led through a fun routine involving a slide and various little trucks which was popular with the kids.
Sarah Jane then also performed a very effective set of foot-juggling, including some pretty large objects such as a large wooden cube and a pole with large balls on the end.
Peter Jolly Snr. then returned with 'Toby the Educated Pony' who proceeded to show everyone how well he could count, and how he could guess the ages of a little boy and girl from the audience.
After this Julie Ann returned riding a fine horse skilfully and seriously until she was interrupted by Peter Jolly Jnr. who had transformed from Ringmaster to 'rodeo clown' and proceeded to steal the show while cheeking his father and doing silly things on Julie Ann's horse, finally showing his real skill by jumping on the horse's back and making a swift escape.
The final act before the interval was a spectacular juggler, Ramone, who, when the lights went out, proceeded to keep the audience breathless with wonder as he juggled an ever-increasing number of glowing, colour-changing balls which, as our eyes adapted to the dark, appeared like a fireworks display rising ever-higher into the dark reaches of the big top...
DURING THE INTERVAL I was lucky enough to be able to speak to the two Peter Jolly's and I said how good it was to see people maintaining the old circus traditions, often against the opposition of political correctness gone mad. We also agreed that the old classic fairground rides are the best!
Naturally, I also grabbed myself a hotdog...
AFTER THE INTERVAL... Peter Jolly Snr. brought on their display of exotic animals, with a two-humped camel, a zebra, a llama and a huge-horned, amazing-looking Ankole Bull from Burundi parading around the ring! Not quite sure what the camel was up to though, it seemed to be doing a dance at a couple of points!
After the animals had left, the Ringmaster introduced Julie Ann who proceeded to climb a rope into the upper reaches of the big top where she presented a death-defying and breath-taking display hanging from the Aerial Star.
Following Julie Ann came Buttons the clown who performed another cheeky sketch with the Ringmaster and a small pony who soon saw him off out of the ring!
Subsequently the Ringmaster introduced their 'Spotted Creation', another one loved by the kids as Mrs. Jolly entered with a spotted pony and ornamental trap, driving skilfully around the ring and manoeuvering in circles before they were joined by two even spottier Dalmatian dogs, led by the cowboy/stilt walker.
After the spotted performers left the ring with Mrs. Jolly, Julie Ann returned with a beautiful liberty horse 'River Dancer' who was then put through his paces.
They were followed by Sarah Jane and her Fantail Pigeons, who with her encouragement performed various feathery stunts on pigeon-sized frames, a cylinder, ladder and sea-saw before departing followed by one particular pigeon who insisted on travelling on foot!
The penultimate segment was entitled 'Farmyard Follies', and was presented once again by Peter Jolly Snr. This time he brought with him a goat who demonstrated his climbing skills, followed by a donkey, then Mr. Jolly brought in a fox riding on his shoulders, said fox then proceeded to ride around the ring on the back of the donkey! Farmyard Follies was concluded by some very entertaining geese who, apart from one bird who clearly thought he was a comedian, proceeded to have fun negotiating various obstacles and a slide before leaving the ring with Mr. Jolly.
The climax of the show came with the 'Eastern Magic' segment, which began with the former 'cowboy', Julie Ann, and Sarah Jane entering in Eastern costumes and wrapped in huge pythons, proceeding to walk round the ring! It went up from there! Next was Julie Ann assembling and climbing a ladder of 'swords' in bare feet. After this, she belly-danced on broken glass! The young man then lay on a bed of nails which was brought in, and Julie Ann sat on him ohmy.gif This was followed in spectacular fashion by another young man who did a fine job of fire-eating (he looked suspiciously like Buttons the clown without makeup and in an Eastern costume!). Ramone the Juggler then returned and juggled flaming torches, before the show was brought to a fiery conclusion as the fire-eater became The Human Volcano, blasting a huge pillar of flame high into the big top - it was so powerful I could feel its heat twenty feet away! Truly amazing!
The Ringmaster, Peter Jolly Jnr, then closed the show and wished everyone that all their days might be circus days. The audience then moved to make their way home, having had a most exciting and amusing afternoon for kids of all ages, as they say.
There was a brief opportunity afterward to see the animals in their tent on the other side of the big top; they all seemed happy, content and undisturbed by all the excitement of the past two hours, but of course, unlike me it was not their first time under the lights of the big top, surrounded by the roar of the greasepaint and the smell of the crowd!
A quick thank-you to the Ringmaster and one or two of the stars on my way out, and I was already promising them, and especially myself, a return visit the next time Peter Jolly's Circus comes 'down our way'. I hope it will not be too long...
- Stuart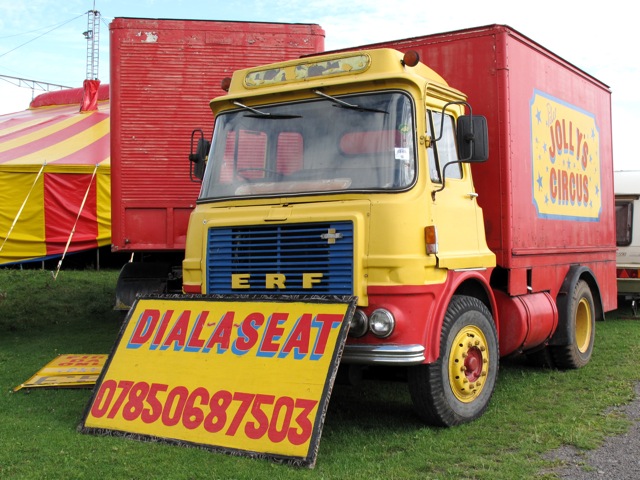 Speaks for itself!